If you want to be seen online, you need your website at the top of search engine results pages (SERPs).
And if you want to be at the top of the SERPs, you need backlinks.
Unfortunately, backlinks are hard to build on your own.
You need to develop content. You need to build publisher relationships. You need to practice outreach. And you need to follow up.
It's a lot of time and effort that isn't guaranteed to make you successful.
That's why link building agencies and link building services exist.
Competent SEO experts have the knowledge, experience, and resources necessary to help you build all the links you need to dominate the competition.
The big problem is that there are too many link building services to choose from.
Darn.
Now obviously, not all of these link building services are worth using.
So, we saved you a couple of steps.
We've done the research, so you don't have to, and we've compiled a list of the 20 best link building services that are currently available.
The Value of Link Building Services
It's hard to overstate just how valuable links are in the SEO industry.
Backlinks pass "authority," a measure of trustworthiness, to your site. The more links you have, and the better those links are, the higher the authority of your site is going to grow. And the more authority your site has, the higher it's going to rank.
On top of that, link building can provide you with greater brand visibility, referral traffic, and even new partnerships and connections.
Taking advantage of link building services enables you to get all of these benefits without spending hundreds of hours of your own time or working tirelessly to hire the perfect internal team.
The only downside is that some link building services use unscrupulous or predatory tactics, ultimately harming your site more than helping it.
Since Google has really stepped up its efforts in cracking down on low-quality content and links, these types of services are getting rarer and rarer.
But it's still important to do your research and find the best link building services you can afford.
Criteria for the Best Link Building Services
What criteria are we using to declare the best link building services available?
Approach and ethics. First, we need to look at the approach and the ethics of the business practicing link building services. Is this a company that spams the web with barely relevant blog comments? Or is this a company that's dedicated to white hat, value-centric link building services? Anything less than the highest ethical standards could end up hurting your brand, so we're only going to consider white hat link builders.
Flexibility. We also appreciate some degree of flexibility. Some link building agencies exclusively focus on one niche, while others can serve a wide range of companies. Some link building agencies have very firm SEO packages or approaches, while others offer a flexible array of services. Versatile companies get a bonus.
Pricing. We also need to consider pricing. If you're prioritizing quality, you should expect to pay a premium – but we also don't want to include link building services that charge an unfair amount for the work they do. Marketing agencies should always be able to justify what they charge with return on investment (ROI) calculations.
Results and reviews. Of course, we'll also be considering results and reviews. What kinds of clients has this agency served in the past? What kinds of results have they seen? What kinds of reviews and testimonials do they typically receive?
We haven't personally used all of the link building services that we're about to list. Instead, we're basing our assessments on publicly available information about each organization.
The 20 Best Link Building Services Available
These are some of the best link building services that money can buy:
1. SEO.co.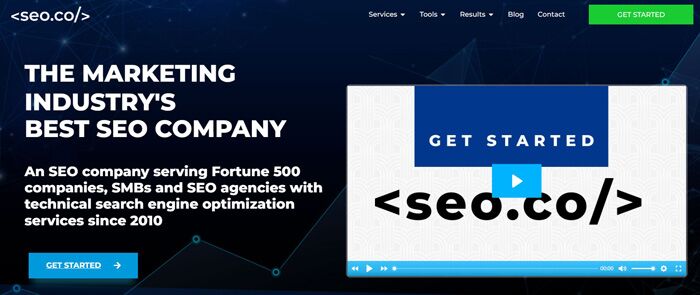 Yes, we put ourselves at the top of the list – why wouldn't we? SEO.co and Link.Build are based in Seattle (with satellite offices across the country) and is a full-service SEO agency, offering consulting, link building, content development, onsite SEO, and other SEO services. We've been serving everything from local startups to Fortune 500 enterprises since 2010 and we have an undying commitment to ethical, value-centric link building. If you're ready to outwrite and outrank the competition, contact us for pricing and more details today!
2. LinkDoctor.io.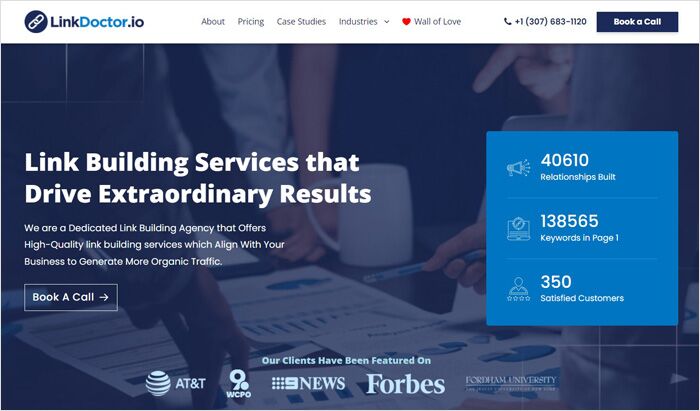 LinkDoctor.io, in Sheridan, WY, currently has more than 138,000 keywords on page one. With decades of combined industry experience on the team and a deep knowledge of best SEO practices, LinkDoctor.io can help almost any site with natural link building services, across a wide range of niches. Pricing is available upon request.
3. Rhino Rank.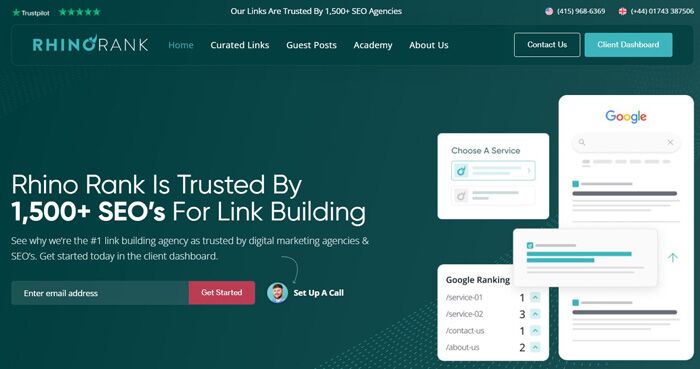 Rhino Rank, located in Shrewsbury, UK, popularized the concept of "curated links." With an uncompromising focus on quality and clients all over the world, Rhino Rank has been helping clients achieve global reach since its founding in 2017. Prices are highly competitive for the industry, with average price per link ranging from $42-200, depending on DA.
4. Siege Media.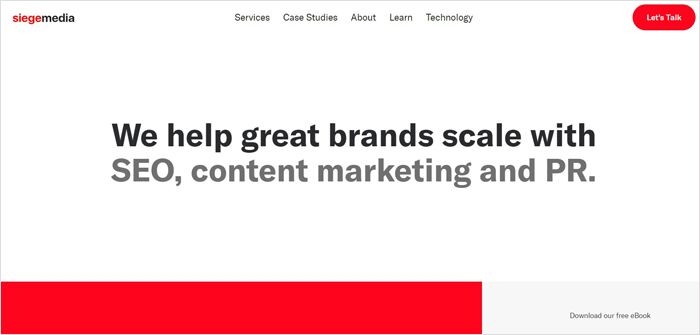 Siege Media is a fully remote marketing and PR agency that offers both passive and active link building services. It handles everything from initial research and outreach to link placement and quality assurance. Areas of specialty include fintech, e-commerce, and SaaS. Link building strategies are developed for individual clients, and pricing is custom.
5. BlueTree.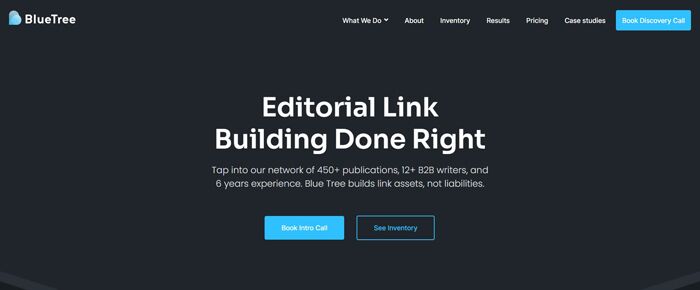 BlueTree, located in Chicago, IL, is a digital PR agency that focuses primarily on SaaS and tech companies – but offers link building plans for a variety of businesses. Utilizing existing relationships with tech publications and a robust editorial approach, BlueTree is dedicated to building domain authority and organic traffic. Plans start at $2,500 per month.
6. uSERP.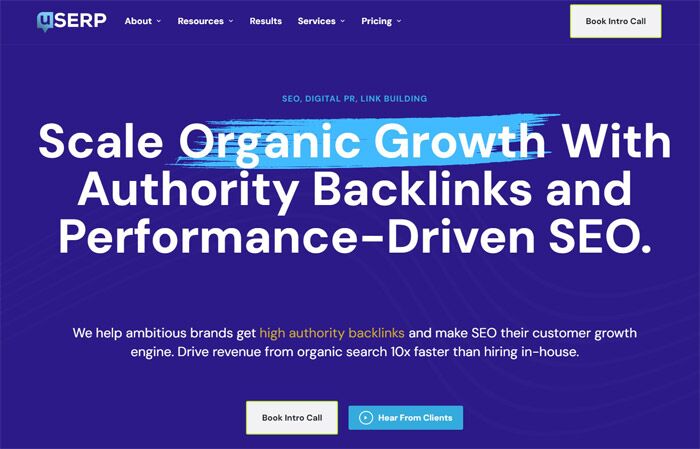 uSERP, located in Denver, CO, is a full-service link building agency that relies on white hat, ethical outreach strategies and "quality over quantity." With strategic direction stemming from content gap analysis, URL analysis, and other data-centric approaches, uSERP works with lean startups, major corporations, and everything in between. Plans start at $10,000 per month.
7. Sure Oak.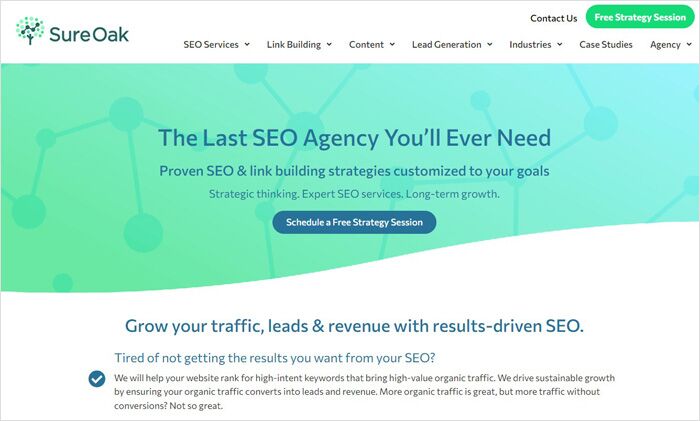 SureOak, based in Brooklyn, NY, serves industries including B2B services, SaaS, fintech, education, e-commerce, insurance, and healthcare. It offers a variety of link building services like editorial link insertions, link analysis, link reclamation, toxic link management, and even white label link building. Plans start at $2,000 per month.
8. Page One Power.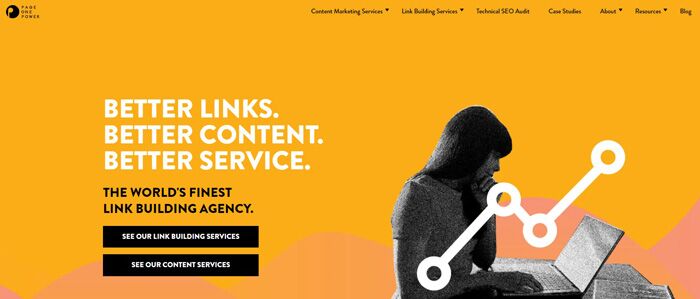 Page One Power, headquartered in Boise, ID, is primarily focused on B2C clients – and has more than 12 years of experience serving them. With full SEO services, Page One Power can help you with onsite optimization, content development, and, of course, link building. It also offers white label services to other agencies. Pricing is custom.
9. Neil Patel.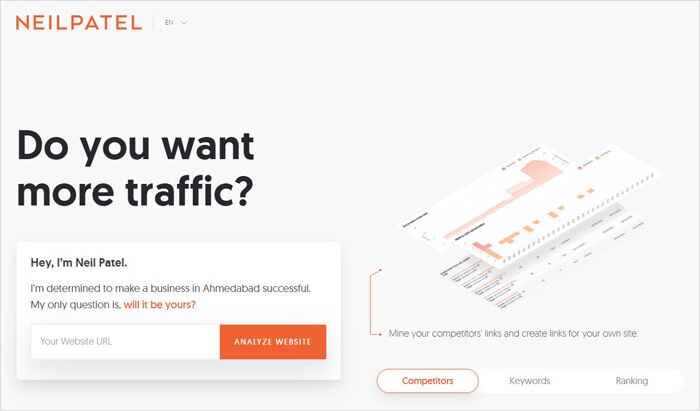 Neil Patel is both an individual and the functional name for his marketing agency. Located in San Diego, CA, Neil Patel serves almost every imaginable business with high-quality content, onsite optimization, and link building. Patel's blog currently has more than 4 million links pointing to it – a powerful demonstration of what good content can do. Pricing is custom.
10. Green Flag Digital.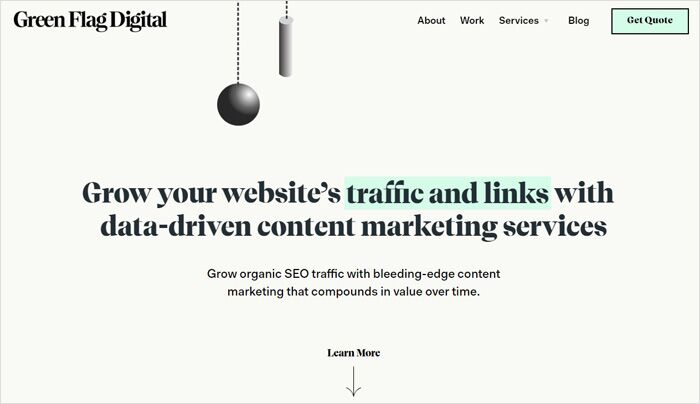 Green Flag Digital, also located in San Diego, CA, typically serves clients in SaaS, medical, real estate, and e-commerce, and exclusively practices ethical link building. They believe in trustworthy, genuinely helpful content – and they have a proven, 10-step process to ensure their clients get the best evergreen links possible. Campaigns start at $3,000.
11. FATJOE.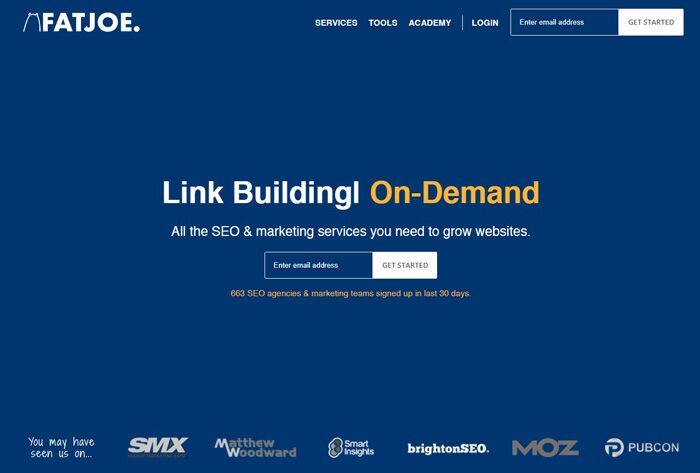 FATJOE, in Cannok, UK, serves clients in fields like retail, manufacturing, tech, and advertising. It relies on organic, ethical outreach and specializes in content syndication. Clients get access to a dashboard where they can view and analyze results in real-time – and white label link building services are also available. Pricing is a la carte, based on the services you need.
12. The HOTH.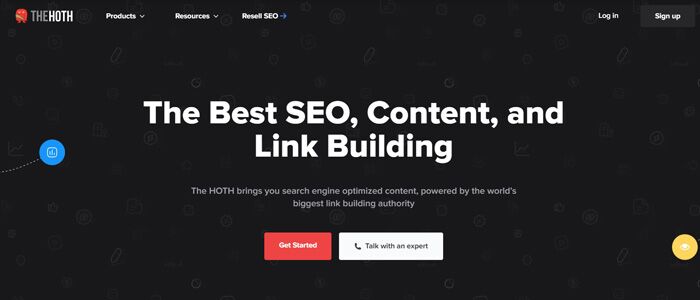 The HOTH, based in St. Petersburg, FL, gets its name from the acronym "hittem over the head," and strives to build natural, traffic-generating links for their clients. Using both offsite content and social media, the HOTH has a signature link building method that's especially powerful for social media content. Pricing is custom.
13. LinksThatRank.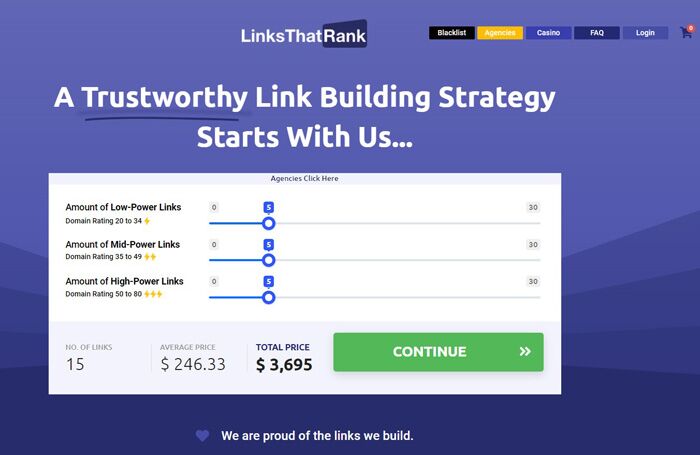 LinksThatRank follows a 23-step process for quality control and maintains a blacklist that filters out the types of sites that Google typically frowns upon. Every link placement is designed to meaningfully improve your chances of ranking – and you'll receive a report when the work is done. White label services are available. Pricing ranges from $177 to $327 per link.
14. eCommerce Link Builders.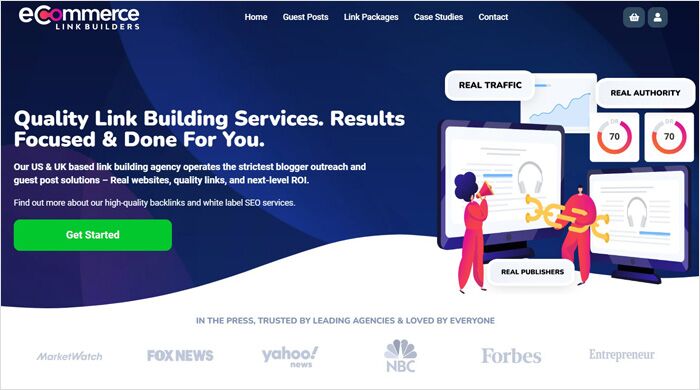 eCommerce Link Builders, in New York, NY, practices link building with a focus on return on investment (ROI) and quality over quantity. Through their plans, you'll get access to blogs relevant to your niche, premium content creation, and exhaustive quality control. Link packages start at $1497 per month, but custom plans are also available.
15. Authority Builders.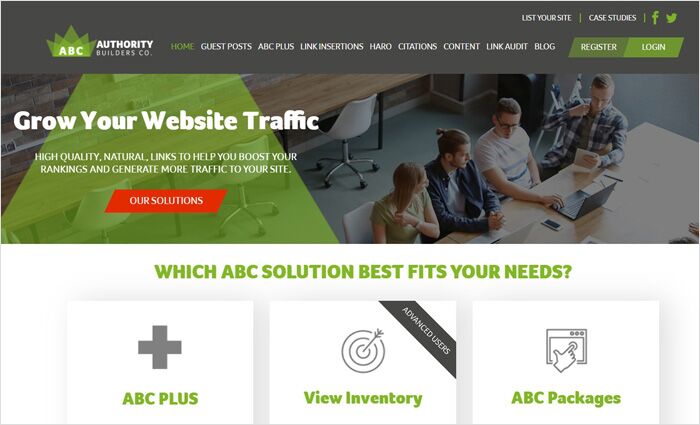 Authority Builders, located in St. Pete Beach, FL, offers a robust dashboard where you can place orders, monitor progress, and generate reports to view your results. You can choose the websites where you want to build links – and they even offer a 365-day money-back guarantee. Pricing is custom.
16. Get Me Links.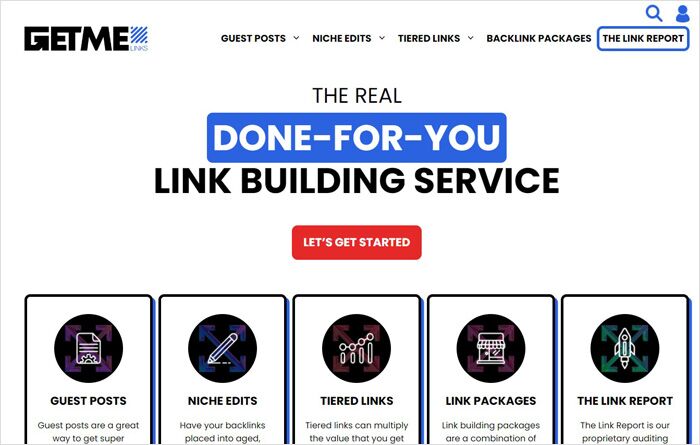 Get Me Links, founded in 2019, offers services that include guest posting, niche edits, link packs, tiered links, and local links, so you can customize a full campaign that covers all of your needs. All you have to provide is a target URL and desired anchor text; Get Me Links handles the rest. Guest post links start at $160 per link.
17. Loganix.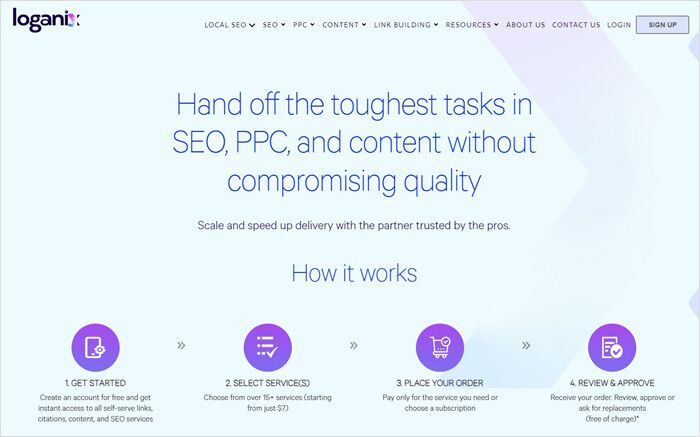 Loganix, with locations in Vancouver, Seattle, and Honolulu, has access to a diversity of different publishing websites, including Forbes, Mashable, and Backlinko. Their guest posting services are the main draw, but they have a wide range of other SEO services that can help your business rank. Pricing starts at $200 per guest post.
18. Love to Link.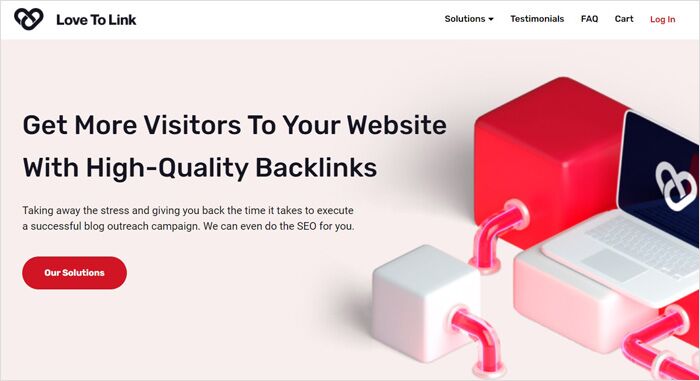 Love to Link is an exclusively white hat link building agency that primarily uses guest posting as a link building tactic. They have a full team of in-house writers and their links are vetted to ensure they bring SEO value to your brand. Pricing starts at $139 per guest post, and services are available as packages or a la carte.
19. Samurai Marketers.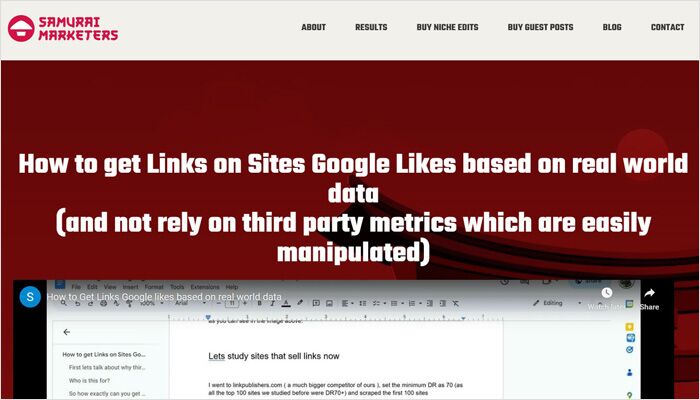 Samurai Marketers, in New York, NY, uses real-world data to acquire links from Google-approved websites across a wide range of different industries and niches. Each link is thoroughly vetted – and clients get access to a totally hands-off experience, with no requirements for developing new onsite content. Pricing is a la carte, and varies based on DA.
20. HARO.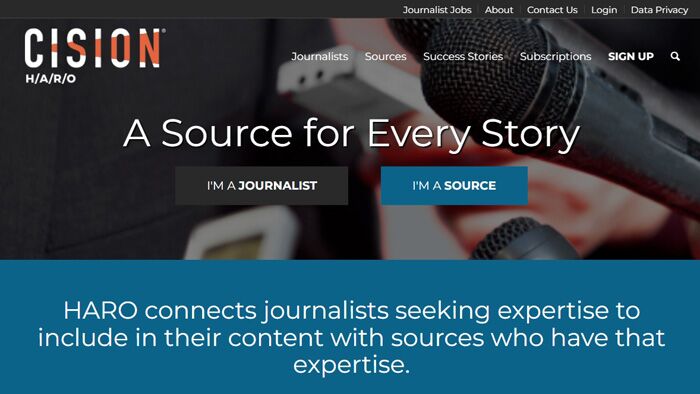 As kind of an honorable mention, we'll point you to HARO, Help a Reporter Out. This service "connects journalists seeking expertise to include in their content with sources who have that expertise," and it's used by link building agencies and SEO professionals all over the world as a convenient tool for securing link placements. It's a free service, and a bit of a gamble at times, but it's worth using if you're looking for a regular supply of new links.
Invest in Link Building
Link building is an investment.
And as long as you choose the right partner, it's an investment that will almost certainly pay off.
Here are some reasons to consider investing in or hiring a link building service:
Improved Search Engine Rankings: High-quality and relevant backlinks are a significant factor in search engine algorithms. Link building can help your website rank higher in search engine results, leading to increased organic traffic and visibility.
Increased Organic Traffic: As your website climbs the search engine rankings, it will receive more clicks and organic traffic from users searching for relevant keywords. This can lead to a higher number of potential customers visiting your site.
Authority and Credibility: Backlinks from authoritative and reputable websites signal to search engines that your content is valuable and trustworthy. This can enhance your website's credibility and authority in your industry.
Brand Exposure: Building links on relevant websites can expose your brand to a wider audience. Users who visit these websites may discover your brand for the first time, leading to potential new customers.
Targeted Audience Reach: Link building allows you to target websites that are relevant to your industry, niche, or target audience. This means you're reaching users who are more likely to be interested in your products or services.
Long-Term Benefits: Quality backlinks can provide lasting benefits. Once established, they can continue to drive traffic and improve your rankings over time, even after the initial link building efforts.
Faster Indexing: Backlinks from reputable websites can help search engine crawlers discover your content more quickly, leading to faster indexing of new pages and updates.
Competitive Advantage: If your competitors are investing in link building, not doing so could put you at a disadvantage. Building a strong link profile can help you keep up with or surpass competitors in search rankings.
Diversified Traffic Sources:** Relying solely on one traffic source, such as paid advertising, can be risky. Link building diversifies your traffic sources and reduces your dependence on any single channel.
High-Quality Referral Traffic: Backlinks can drive referral traffic from the linking websites themselves. If users click on your links from these sources, they're likely to be interested in your content, leading to higher engagement and potential conversions.
Relationship Building: Outreach for link building often involves building relationships with other websites and bloggers in your industry. These relationships can lead to collaboration opportunities, guest posting, and more.
Adaptability to Algorithm Changes: While search engine algorithms change regularly, high-quality backlinks have consistently proven to be a strong ranking factor. Investing in link building is a strategy that is less likely to become obsolete due to algorithm updates.
However, it's important to note that not every link building company is created equal.
Quality matters more than quantity when it comes to backlinks and off-page SEO.
Black-hat or spammy link building practices can actually harm your website's reputation and rankings. When considering link building strategies, prioritize those that focus on ethical (e.g. broken link building), white-hat practices and emphasize the importance of relevant, high-quality backlinks.
Everything begins with a conversation.
So, if you're ready to talk about your current link building strategy, or if you just want to know more about how we can bring the best links to your website, contact us today!

Latest posts by Samuel Edwards
(see all)